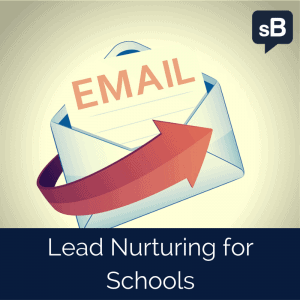 The modern admission office has become very automated. By leveraging technology admission officers have been able to do more with less resources: staff, money, and time. The infusion of technology and automation doesn't have to mean the disappearance of the 'personal' touch that all admission offices hold in high regard. This is where lead nurturing for schools enters the picture.
One of the technologies that we implemented three years ago was lead nurturing emails. Lead nurturing, as defined by Wikipedia, is:
Drip marketing is a communication strategy that sends, or "drips," a pre-written set of messages to customers or prospects over time…Drip marketing can be used as a function of the lead generation and qualification process. Specifically, drip marketing constitutes an automated follow-up method that can augment or replace personal lead follow-up. Often called Autoresponders, new leads are automatically enrolled into a drip marketing campaign with messaging relevant to the call-to-action from which the lead came. This is also known as lead nurturing.
Why Use Lead Nurturing Email?
We decided to implement lead nurturing emails for a few of reasons.
1. Applying to an independent school involves an incredibly long sales cycle. If you inquiry in the fall before our admission deadline in February, that delay could be up to six months. We wanted to stay 'top-of-mind' with families but we didn't want to stalk them. We believe that lead nurturing emails allow us to be involved with our prospective families without being a nuisance to them.
2. Another reason we like using lead nurturing emails is that they offer an additional layer of personalization that we couldn't necessarily achieve with contact from our admission office. When a family inquiries at our school we really have two pipelines they enter – the goal of each is get the family to visit our school. Our belief is that if we can get them to visit it will help us advance them into the next enrollment ring.
3. The final reason we implemented lead nurturing emails is that email is an easy vehicle to allow us to be more helpful to our prospective families. After reading Youtility by Jay Baer we've tried very hard to help our prospective families learn about the admission process, the financial aid process, and our school. As a result, we send families helpful information that will educate them and make their research of our school easier.
How To Use Lead Nurturing for Schools
I hope that you're sold on using lead nurturing emails in the admission office. If you are, the next logical question is how do you use this type of email in your office.
As I mentioned earlier we've created two pipelines prospective families move through after they inquiry at our school. The first pipeline is the personal interaction pipeline in which they receive personal contact from the admission office.
The second pipeline is our lead nurturing pipeline in which each prospective family receives a series of emails with the goal of helping them learn more about our school and in the end – hopefully visit our school.
Within our second pipeline we've segmented our lead nurturing emails into three campaigns: Lower School, Middle School, and Senior School. While there are certain emails that all three segments receive we have certain emails that are specific and targeted for each division.
An example lead nurturing campaign for Middle School:
0 Day – Initial Inquiry.
2 Day Delay – We send our School Video.
7 Day Delay – We send our 27 Questions to Help You Evaluate a School for Your Child free guide (pdf).
5 Day Delay – We send the answers to all 27 questions for Sewickley Academy (pdf).
5 Day Delay – We send Touchstone – a collection of essays written by our Head of School reflecting on our Mission and Core Values (pdf).
5 Day Delay – We send a link pointing them to our Academic Program Chart driving them back to our website. Our purpose is to educate them as well as get them back to our website.
7 Day Delay – We send a link pointing them to a series of blog posts explaining our Daily Academic Schedule on our blog. Our purpose is to educate them about our daily academic schedule as well as introduce them to our blog.
7 Day Delay – Finally, we send a link pointing them to our Meet the Teachers page on our website highlighting a few of our teachers.
The call to action within each email is to call and schedule a visit.
Are you convinced to the possibilities to lead nurturing?
I hope you now understand what lead nurturing is and one way in which you can implement this tool in your admission office. I also hope that creative juices are flowing as you try to think of emails that you can send to prospective families making the case for your school.
Have you implemented lead nurturing at your school? Can you share any lessons you've learned? Please use the comments section below to share with other readers.