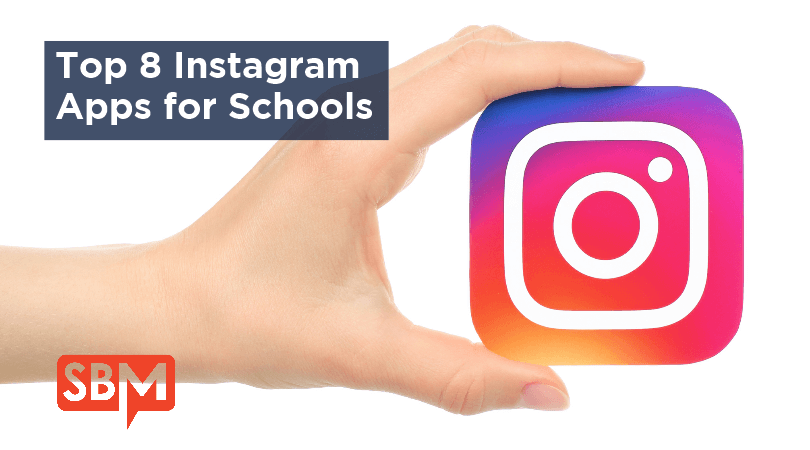 Instagram has rapidly gained popularity in the last six years, and its growth and importance for school marketing continue to expand. A recent study by Flurry Analytics found that 90% of U.S. mobile users' time is spent in applications. Instagram was created as an application platform, unlike Facebook, Twitter, and LinkedIn, which were created as browser-based platforms. In today's mobile world, apps are a key part of how people interact with content and, when it comes to Instagram, with visual content.
Instagram is all about visual content, which makes it such a great school marketing retention platform. It's a simple way to engage with your target audience. Many people prefer Instagram over other social networks because it is less cluttered and easy to use. It gives you 2,220 characters to express yourself, including 33 hashtags, which is great for discoverability.
Standing out in Instagram is important in your school marketing efforts because it recently introduced an algorithmic feed, meaning not all uploads will be viewed in your followers' feeds. In order to be seen, you will need to upload images that are attractive and exciting. Using a third-party app that helps you create and edit photos and videos is an integral part of creating photos that will be liked and shared. Third-party apps give you more tools – and precision – over the look of your posts than the built-in Instagram apps.
The school environment is ripe for taking pictures (just make sure you have those photograph permissions on file from parents if you're taking pics of kids.) Taking pictures of current students is a no-brainer for marketing; pictures of kids and parents are pure gold. Consider taking pics of staff at work, classrooms, outdoor areas, offices, even pics of that favorite cafeteria person could be interesting. Alumni (where are they now?), admissions, kids going on field trips or other activities all will help you tell the story of your school using images.
And using third-party apps to edit and enhance those photos will ensure your social networks will progress exponentially. To help you do that, I encourage you to download the following Instagram apps.
Exclusive Bonus:
Download the pdf
of the Top 8 Instagram Apps for Schools to reference for when you need a better way to manage Instagram for your school.
Hands down I love Snapseed for schools because it allows you to adjust the colors and contrast in your image. It's a great app because you can make minor tweaks to fine tune the photo, so it still looks natural.
Coming in at a close second is VSCO Cam. VSCO allows you to focus your camera and make adjustments before you shoot. VSCO Cam offers gorgeous filters and editing options that will make you look like a pro!
I also really like the Photo Editor by Aviary because it offers so many effects and color correctors. You can also add stickers, frames, overlays and more.
Camera+ is an app that mimics the DSLR settings on a camera, allowing you to fine-tune your images. It offers 16 scene modes to help you bring out the best in your photos. Currently, it supports Apple products (iPhone, iPad and Apple Watch.)
Have you ever wanted to add text to your images before posting to Instagram or other social media networks? Overgram Quick may be just the ticket. It lets you select from a large range of fonts and customization options. This app is so easy to use, and it gets the job done. Works on Android or Apple.
Pic Stitch is another one of my favorites. Pic Stitch is used to create attractive collages using multiple photos. Pic Stitch is available for Apple or Android.
Have you ever tried to upload an image to Instagram that wasn't perfectly square? If you have, you know it will automatically cut off part of the image so that it publishes at exactly the right dimensions based on Instagram's requirements. Squaready to the rescue! Squaready will crop your photo into a square format and shrink your photo, so it fits into the square frame showing the part of the image you want to show. So, for example, if Instagram would naturally cut off part of someone's face you can adjust it using Squaready so that their face is visible. Available for Android and Apple.
Hipstamatic is a very fun app to play around with. What makes it unique is that you can change your images into retro photos using their classic setting. This app makes your images look like they were taken with a vintage camera. Other cool features include the ability to create short videos using their mobile motion picture app to easily share on social media. Available in iTunes for iPhone or iPad.
There you have it – the top 8 Instagram Apps for schools. These apps are easy and fun to use; they will make your images stand out on Instagram and help with your school marketing efforts.
Exclusive Bonus:
Download the pdf
of the Top 8 Instagram Apps for Schools to reference for when you need a better way to manage Instagram for your school.
What are your favorite Instagram apps? I'd love to hear from you – post your comments below!